Custom Headache Racks & Toolboxes
Since 1934 Economy Manufacturing has been building all manner of custom truck equipment and accessories. Headache racks built for heavy oilfield use, built to your specifications, are a common custom item built at Economy Manufacturing. Standard off the shelf bolt on headache racks just do not hold up to roustabout and oilfield pumper use! Economy Manufacturing Oilfield headache racks typically have side rails outfitted with toolholders for pipe wrenches. Pumpers and Roustabouts like our removable downhole pump racks and pipe racks!
Custom Truck Beds
Custom hauler bed packages, painted and installed on your truck, built with the features you ask for. Economy Manufacturing is a true custom shop, which means you do not have to settle for what is in a catalog! Let us configure the skirted hauler flatbed of your dreams. Pick the gauge of the steel, diamond plate or smooth, how many and what size toolboxes, you get the idea. An Economy Hauler bed is truly built to order, for your unique trailer pulling needs. Add winch capability for the oilfield, or bale spikes for your cattle operation, just ask! Economy builds the features you want in YOUR bed. Have it your way at Economy Manufacturing, since 1934!
Economy Flat Bed
The Economy Flat Bed has been manufactured in Sedan Kansas since 1934. About every size and configuration you can dream up has been built right here in Sedan, Kansas over the years. The Economy difference is that we simply build what you want and need, not a cookie cutter production model. Whether you call it a platform bed, or flatbed, you get to pick how your bed is configured. Custom headache racks, diamond plate or smooth steel, how many and what size tool boxes are just a few of the choices that YOU get to make. Your Economy flat bed can be color matched to your new truck if you choose. Many tough Economy beds have been on two or three trucks. It pays to buy a heavy built flatbed, the way you want it. You will be proud to move it to your next new truck, too!
Economy Flatbed w/ Harsh Hoist
Economy Manufacturing has built many flatbeds with various custom side panel configurations, including dump beds with hydraulic hoist packages. These dumping flat beds are a favorite for city and county municipalities, as well as utility companies. Many custom features can be added to suit your dump bed application!
Hay Bed
The Economy Spike type hay bale bed is a long time favorite of cattle ranchers. The main advantage of this type of bed is that you can back straight in to the flat side of the big round hay bale to pick them up, and setting them back down does not require rotating the bale on the ground! The easy way to arrange your round hay bales is with an Economy Bale flatbed! Many Flint Hills Kansas Ranchers have discovered the Heavy duty construction of the Economy Spike bed for hay handling. Add toolboxes and other custom features to suit your needs!
Lawn Maintainance bed w/ Harsh Hoist
Lawn care professionals have learned that pulling a trailer in tight residential neighborhoods is not always the most efficient way to get your equipment to the job. A cab forward truck lets you put the landscape trailer on the truck! Now you can put all of your gear right on the truck, making getting in and out of tight neighborhoods and industrial parks much easier. Economy Manufacturing builds Lawn Care truck flatbeds and Landscape truck beds with many sensible features to make your operation more efficient and profitable! The removable drop tail lets you take off the ramp to configure the truck for salt distribution. This makes the truck usable all year to build profit for your lawn care business!
More Economy Flatbeds
Oilfield Winch Beds
Economy Manufacturing has years of experience in building truck beds and oil field winch truck beds.Since 1934 our custom fabricated Economy Oilfield Winch Beds have given pumpers and roustabouts a lift in the oil patch!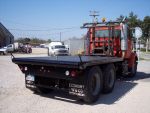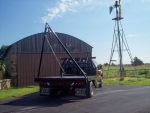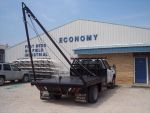 Showing results 1 to 4 of 4

We have over 75 years experience in the oil field and truck bed manufacturing. Folks know they can depend on an Economy Bed to work hard and look good for years to come.
Come and see why more and more folks are insisting on an Economy Flatbed for their new truck.